Message From
Principal

Dear Student,
Due to Covid-19 pandemic , academic activity in our college has come to a grinding halt. It seems that there is no possibility of regular class work in near future and we can not afford to continue like this. Inorder to ensure that we adhere to advisories of staying indoors the online mode of teaching is to be adopted. To ensure a smooth academic delivery and engage you in a virtual learning process college has been working overtime and in an overdrive. Your teachers have been busy in preparing notes/content as per your syllabus.
In these days College has taken strong steps for further development of in-house ERP and has launched a Learning Management System (LMS) the Islamia College Content Management System short named as IC-CMS. Through the IC-CMS platform all bonafide students of college will be able to login into a particular classroom wherein they will be able to download the syllabus specific content ,which has been compiled in-house by respective faculty members painstakingly since last fortnight. Further a student can upload an assignment and participate in a quiz on said platform.
College has devised a comprehensive time table , which is available on college website and as per the time slots given , a student can have a virtual class with his/her class teacher in an online mode through text chat /audio instruction wherein the student can ,after self study of content in advance, enter into a discussion mode. Further the LMS we are rolling out has an option of uploading of video lecture by a faculty member for his students.
Department of Higher Education had a roadmap of moving to flipped mode of teaching for semester-I from current academic session but the present challenge at hand has put us all into the option of Flipped mode teaching for all classes.
Circumstances are such that all of you have to move to this new way of learning wherein you have to self study a topic in advance and text your question/s on your logged in dashboard and subsequently enter into a discussion with your teacher at the time of real time interaction in virtual class.
A brief manual on how to use college learning management system IC-CMS effectively is available here on college website and all of you should read it carefully to understand IC-CMS better. College IC-CMS is a developing platform and it will evolve with more options based on your inputs. We shall be rolling out more e-learning options like Google Suite , TCS iON , Moodle , etc as and when same are required for fulfilment of our aim of teaching you online.
Your cooperation can only make this endeavour a success and can deliver results in terms of adherence to academic calendar which will result in completion of syllabus and conduct of examination on time. You have to attend online classes on daily basis and teacher will maintain your attendance record. You can use this platform through Student Login on college website. Your class roll number will be your user ID and your mobile no your first login password , which you will change immediately thereafter. Further you have to take ownership of your login credentials and ensure that no one else logs into the class and posts inappropriate things. Any such thing happening , using your login details , will be owned by you with provision of facing disciplinary action.
I shall be personally monitoring each and every facet of academic deliverance through this initiative and shall remain connected with you. Any problem you face will be looked in all seriousness provided you bring such problems to my notice through email/whatsapp/sms. Your feedback will be confidential and will be shared without disclosing your identity. That is a promise.
I take this opportunity to advise my dear students to stay indoors and follow all advisories issued from time to time by authorities. Let us fight Covid-19 together by being innovative and truthful.
With lots of love...
Prof. Sheikh Ajaz Bashir
Email: principal@islamiacollege.edu.in
iamsheikhajaz@gmail.com
WATCH ICSC COLLEGE TARANA
Levels of Excellence
The College has achieved many milestones since its inception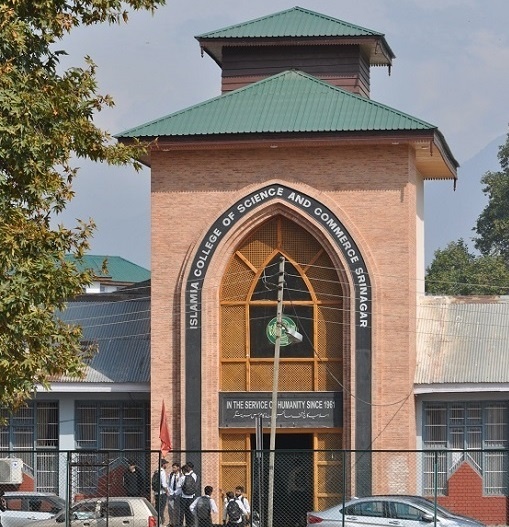 The College has been decleared "College with Potential for Excellence in 2010[...]
The College has been bestowed Grade "A" with CGPA 3.27 (the highest score among Valley Colleges) By NAAC.
Information Technology Support Services(IT&SS)